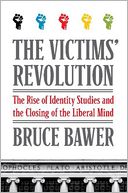 "Bruce Bawer's New Book Is Terrific."
"An outstanding work."
Claire Berlinsky, City Journal
"The richness of The Victims' Revolution lies in Bawer's crystalline details and lucid exposition."
Peter Wood, Minding the Campus
"An informative, credible and even shocking book...
Reading it -- and when you stop laughing -- weep."
Barbara Kay, National Post (Canada)
"Should be required reading for every humanities student
at a North American university."
Janice Fiamengo, Front Page Magazine
"This is simply the best book yet written on how the corruption
of identity politics insinuated itself into—and then began to
reinvent—American academia. It shows how classic liberalism's
great aspiration—the free individual free to choose—was betrayed
over and over again for the fruitless and fleeting leverage of group
identity. Bawer's interviews with the smooth practitioners of
group politics—salesmen who've sold themselves first—are
stunning for their pathos. If this book was required reading at
every freshman orientation in the country, it would start a
revolution. It tells a story that Americans must hear."
Shelby Steele,
Senior Fellow, The Hoover Institution, Stanford University
"Bawer scores lots of entertaining points against the insufferable posturing and unreadable prose that
pervades identity studies....a lively, cantankerous takedown of a juicy target."
Publishers Weekly
Also praised in The Wall Street Journal:
http://online.wsj.com/article/SB10000872396390443864204577623301437203854.html
The Blaze: http://www.theblaze.com/stories/why-do-so-many-students-hate-capitalism-and-america-theblaze-speaks-to-author-of-new-book-that-criticizes-colleges-for-teaching-victimhood/
World: http://www.worldmag.com/2012/09/notable_books_0
...and sneered at, misrepresented, and condescended to in The New York Times: http://www.nytimes.com/2012/08/26/books/review/the-victims-revolution-by-bruce-bawer.html?pagewanted=all
Janice Fiamengo on the Times review: http://frontpagemag.com/2012/janice-fiamengo/the-bad-faith-of-leftist-intellectuals-today/
____________________
brucebawer.com
---
Website contents © 2013 and earlier dates by Bruce Bawer. Please do not copy anything without permission. Lecture, interview, and other media inquiries to media.queries -at- gmail.com.